Used Boats:
20
Adverts Displaying:
1
-
10
Very well kept. Only 150 hours on the engines....
read more
Year:
2011
Length:
45'
Location:
Malta
Price:
€375,000 Tax Paid

View Details
A perfect blue water cruiser, the Pilot Saloon 58 is the quintessence of Wauquiez expertise in terms of conception and high-end yacht building. The Pilot Saloon concept, launched by Henri Wauquiez over the last 20 years, continue to attract many sailors looking for a versatile sailing yacht, matching every sailing program and offering comfort, brightness and high performance....
read more
Year:
2016
Length:
58'
Location:
Malta
Price:
€779,980 Tax Not Paid

View Details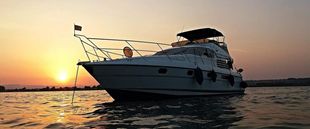 Very well cared for Fairline Squadron 50 which has been upgraded throughout the years. New instruments 2011, LED light , new outside upholstery 2016, new Washing machine and fridge 2014. 3 x aircon units, Generator and full instrumentation....
read more
Year:
1995
Length:
13' 96"
Location:
Malta
Price:
€150,000 Tax Paid

View Details
Winner of the Luxury Cruiser category in the 2015 European Yacht of the Year Awards. Wauquiez has been building modern, ocean-going sailing yachts with comfort, elegance and superb finish amongst their many assets. This absolutely stunning Wauquiez Centurion 57 represents a hybrid of styles, a real all-rounder of cruising yachts. The Centurion 57 is classic in her style and steers clear of the ever growing trend of minimalist modern designs, instead shining in her timeless elegance. Her sailing performance is outstanding and the following quote from Yachting World Magazine ...
read more
Year:
2016
Length:
58'
Location:
Malta
Price:
€759,900 Tax Not Paid

View Details
This boat boasts 3 cabin and controls both on the Fly and inside. It has 2 heads as expected from a boat this size. It has very low hours on the engine. It is currently in a leasing program and can either be bought off or according to the vendor the program can be continued. In our opinion the age size and price make this boat an excellent purchase....
read more
Year:
2008
Length:
15.6m
Location:
Italy
Price:
€500,000 Tax Not Paid

View Details
This craft has been lovingly kept from new. It has MFC licence although never used for fishing. Must see, this boat although it has 7 years it is still in mint condition....
read more
Year:
1905
Length:
5.5m
Location:
Malta
Price:
€17,000 Tax Paid

View Details
This is a privately owned yacht with possibly the highest specification available. No expense was sparred in equipping this boat. Apart from the deep lead keel, electric in-mast reefing, electric Genoa, electric winches, electric flush toilets there is an extensive list of extras (detailed below) that confirm this boat was designed and built to suit shorthanded sailing. It handles fantastically in all conditions. Currently located in the UK but sold with a berth in Vitoriosa, Grand Harbour, Malta. This really is the Mediterranean dream....
read more
Year:
2009
Length:
14.45m
Location:
UK
Price:
£199,000 Tax Paid

View Details
The Beneteau 40.7 combines a sleek and sophisticated racer with all the comforts of a luxurious cruiser. The roomy cockpit features removable lockers morespace for cruising and less weight for racing....
read more
Year:
2005
Length:
12.26m
Location:
Malta
Price:
€195,000 Tax Paid

View Details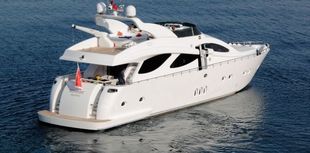 An impressive boat, built to exceptionally high specifications. Constructed is GRP, reinforced with epoxy and PVC closed cell high density foam and using the vacuum technique to bring it all together. Interior was designed by Atil Becin together with KYD. Inventory is also just as impressive. When one considers it has 4 en suite cabins and 2 crew cabins, it is a complete boat built to last and look good for a long time.Specs too many to mention, potential buyers please send e-mail so we will send more complete list of features....
read more
Year:
2008
Length:
23.7m
Location:
Turkey
Price:
€1,200,000

View Details
This classic boat is owned by a professional engineer and is kept to the highest standards. It was completely refurbished during 1995 and 1998. New fuel and fresh water tanks fitted, new water piping, pumps, and complete engine overhaul. Present owner also did a new electricity system, new fridge and instruments. The aft deck was extended by 4 feet in 1996 in order to fit a dinghy on deck during cruising....
read more
Year:
1980
Length:
11.1m
Location:
Malta
Price:
€79,000 Tax Paid

View Details